Construction Test and Tag Services in Canberra
Testing and tagging helping you get paid faster
Many builders in Canberra are holding back payments because current construction test & tag log books have not been provided with payment claims. We can help you get your payments processed faster by providing you with a free electrical test & tag log book in fast and easy PDF format. This free log book is the evidence you need.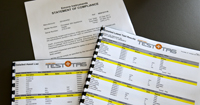 Your free log book is a critically important document for your high risk industry.
Territory Test & Tag Services (TTTS) will provide the evidence that you have fulfilled your obligations to your workers in the event of a work place accident involving portable electrical appliances.
Our construction test and tag specialists service Canberra's largest building companies and their tradespeople, including:
Project Co-Ordination
PBS Property Group
Construction Control
Murray & Sons

NFS
D-Group
BMD, and
Affinity Electrical Technologies
We can perform minor repairs on-site
Having come from a commercial construction back ground we know exactly how important it is to keep your staff productive. Contact us to find out how we are able to keep your people working more efficiently for longer.
In addition to construction test and tag services, TTTS are able to provide a range of convenient products to Canberra's construction industry at very competitive prices, such as RCD boxes, 25 metre leads, and 150w and 500w light globes.