Electrical Test & Tag – Our Core Business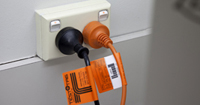 We test & tag in accordance with Australian/New Zealand standards. As subscribers to "The Standards", statutory work-place safety authority news letter and union safety bulletins, we have the ability to keep our clients informed of changes.
FREE LOG BOOK On completion of work, we provide you with a comprehensive log book as evidence you have fulfilled your OH&S electrical testing and tagging requirements. Below is a list of services we offer.
Electrical testing & tagging to Australian/New-Zealand Standards
On-site repairs
Residual Current Device testing (RCD – earth leakage safety switch). Have your safety switches tested to ensure they are operating correctly
Microwave leakage testing
3 Phase appliance testing and 3 phase RCD testing
Asset register creation and bar-coding
Risk assessment.
Fire safety solutions
Re-lamping
Emergency and Exit light testing